Week12: Soft Opening
This week is our Soft Opening Week!
For the benefit of people who haven't experienced a Soft Opening, here's the basic description:
In the theme industry, it's called "soft opening." In the theater, it's called "previews." In software, it's called "beta release." In all cases, it refers to "we believe it is fully ready" but also carries the acknowledgement that it probably has a few kinks that should be ironed out, but can only be ironed out by showing it to real customers, in allegedly finished form. So, team producers should coordinate with faculty consultants and project instructors to do a full playthrough of their experience and then visit visit the team to share feedback. And team producers can reach out to faculty in general for additional feedback this week.
Now, let's see what we did this week!
Soft Opening
We set up a table last week for schduling Soft Opening with ETC faculties and staffs. This week, we had Carl, Heather, Shirl S, Dave C, John D, Scott S, Brenda visiting us in our project room.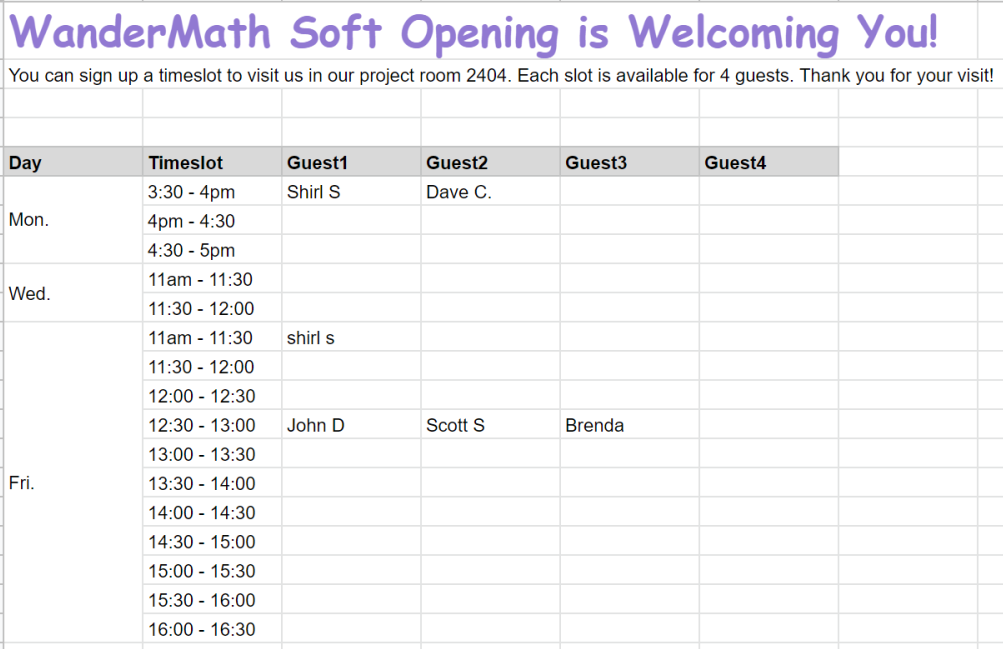 Carl, Heather – Finding bugs and edge cases, inspired some quick improvements
Shirl – solidified that we need to purchase tablet cases, teacher's guide review
Dave – suggested that teacher's guide include questions teachers can ask at the end of each phase, in case that's how they want to integrate into their classrooms
Scott – feedback on how the Skate Park explains volume, will help us with the questions to ask tomorrow at the playtest
John, Brenda – feedback on Activity 3 dialogue (swipe vs drag)
Tech Update
We added a forgiving mode this week. So if players having difficulty in folding faces, they can simply hold it for 1s to fold.
CMU Writeup(s) Interview
On Monday this week, we got a piece of surprising news that Heidi Opdyke of CMU's Marketing & Communications selected us from ETC projects to feature in upcoming CMU writeup(s) (e.g., Piper or website or …. – target publication(s) TBD). She has a freelancer, Megan Harris, who will be writing about us. On Friday, Megan had a nice interview with us for about an hour, talking about us and the project. We all derived satisfaction from being selected for the interview and getting positive attention! Looking forward to the coming writeup(s)!