Week 7: Half Presentation & Begin Activity 2
Half Presentation
Wednesday this week, we had our 1/2 presentation! It is called 1/2 presentation because it happens in our middle of the semester and takes part of our midterm grades. Here is our presentation.
Before we got here, we had rehearsals with Carl, Mike and also with our clients. To our joy, we received 13 of 16 faculty respondents are excited about our direction, versus 3 that are neutral/wait-and-see and 0 that are worried. This is amazing, that we have that much buy-in on our direction!
For sense of team progress, again 13 of 16 feel we're making good progress, with 3 neutral and no one thinking we're behind on progress.
For "how confident are you about the team's plan (confident, neutral, worried), we had 1 worried, 2 neutral, 13 confident. Dave Culyba was worried because he didn't see it clearly in our presentation that what the transformational strategies are. He commented that "It's nice to hear that students with math anxiety like the experience, but do you have an idea of why? How will you enhance that?". He suggested us to leverage both of AR and conversations better and connect them together. We will pay more attention to these areas during the rest of the semester.
All in all, we did a great job in our midterm!
Start Activity 2!
Meanwhile, we need to hurry up in designing Activity 2!
This time, we decided to have a better and clearer arrangement for activity design. So we started to use flowchart to indicate the activity flow, the art and sound assets that are needed in a certain part of the activity as well as the tech to-do. After one asset is done, we can put a check mark on the icon.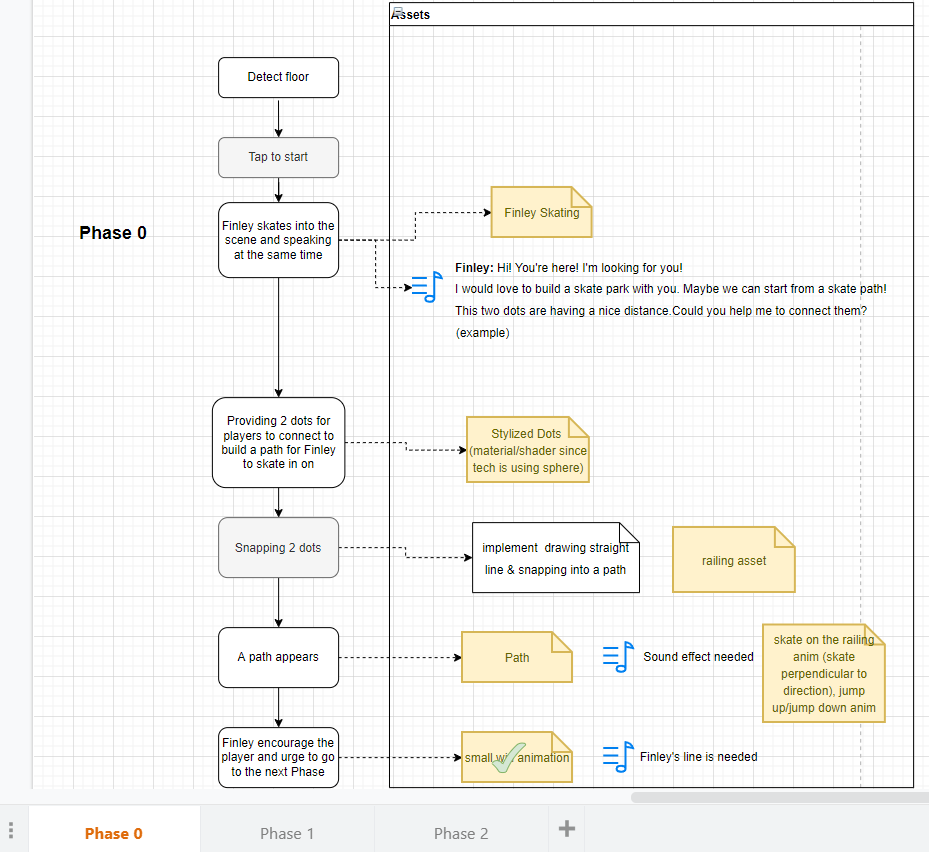 Phase 0 Design
Due to the space constrain, Phase 1 is too large to be shown here. The image was compressed badly. Therefore, we only have Phase 0 as an example.
Before Friday, we had Phase 0 and Phase 1 Design finished, so that programmers can start to explore on the mechanism and evaluate the scope of the activity. Therefore, the futher design can be done within the scope. Hope everything goes well for our Activity 2!