The new semester has finally started, and we are excited to work on this new project with Colonial School!
In the first week we setup our project room, had a bunch of meetings with our advisers and came up with a general idea about what we are going to do.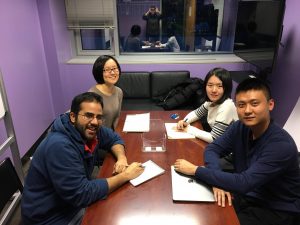 Later in the week we spoke to our client Audrey Mory who offered us lots of freedom in scope as long as it is an entertaining math-based educational game for children from 9 to 11 years old. The deliverable at the end of the semester should be an ready-to-ship game for Apple store.
We then started with competitive analysis playing many educational games available on the market, and decided what worked for them and what did not. We also had a brainstorming session, sketching out 10 game ideas.
As well as brainstorming we were required to create a composition box for our project which involved considering the Experience, Needs and Inspiration of various stakeholders involved in our project.
In terms of logistics, we have scheduled weekly meetings with our faculty project instructors on every Monday and phone meeting with the client every Friday. We will visit our client in-person on a monthly basis. In addition, we also came up with a team name, Tiny. We are going to make a tiny math game and the team size is small, by far that is a great name to start with. Finally we began working on the composition box.