History
The Jam-O-Drum project began in July 1998 at Interval Research to explore new ways for people to make music collaboratively. Inspired by experiences of communal music making in non-western cultures, Tina Blaine led a creative team in the development of an interactive drumming table known as the "Jam-O-Drum". This device allows groups of people with or without previous musical knowledge to have shared audiovisual experiences by integrating interactive music elements via MIDI with real-time video and computer graphics projections in a collaborative environment. Exploring this medium as a way to achieve community music making experiences and to encourage spontaneous, unselfconscious behavior has been a focus of her work.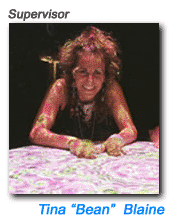 The original goals of the Jam-O-Drum project were:
· To explore music and motion in graphics
· To make collective musical experiences available to novices
· To experiment with different musical and visual styles
· To bring a group of people together for a collaborative approach
· To inspire physical movement and unselfconscious behavior in the players
Rather than creating an immersive musical environment with a projection display on a wall, the team focused on creating a shared physical object that people could gather around. In effect, turning the immersive space "inside-out". The original Jam-O-Drum prototype design incorporated six drum pads in a seven foot diameter circular table used as an integrated video projection surface.
The Jam-O-Drum has been exhibited at SIGGRAPH's Emerging Technologies and a version that scales from 6 - 12 players is currently on exhibition at the Experience Music Project in Seattle. A smaller prototype of the Jam-O-Drum has become part of the Entertainment Technology Center's Curriculum.